Grow Your Practice with a Custom
Law Firm Website
Boost your law firm's digital presence with our bespoke law firm website and SEO services. Stand out from the competition and effortlessly attract clients with our expert services.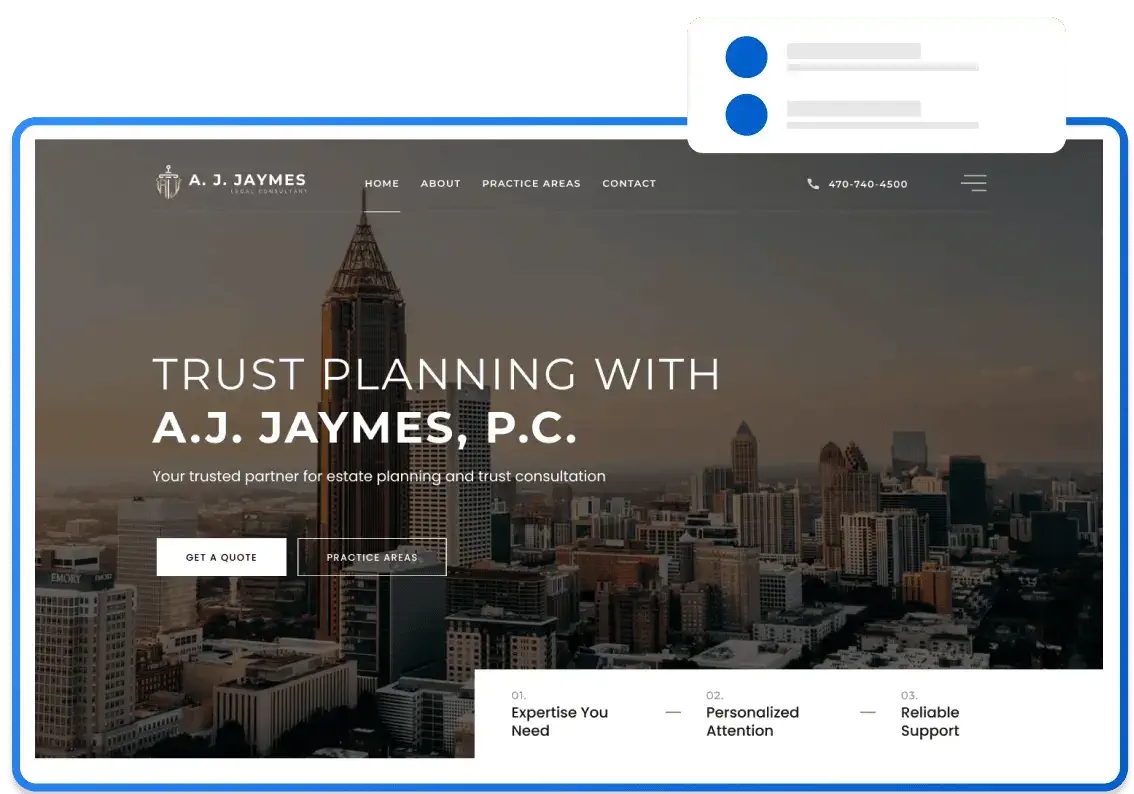 Our Trusted Partners: Law Firms We've Helped Succeed
Top-Rated Law Firm Websites
We proudly showcase our impressive websites for law firms catering to various practice areas' unique needs. Our team has extensive experience in legal services. We have worked with solo attorneys, small, medium and large-sized law firms. We have worked with professionals from wide range of legal areas, including personal injury, family law, criminal defense, and more.
California Personal Injury Law Firm
Ready to Take Your Law Firm to the Next Level?
Expertise: Our team is experienced in creating websites for law firms of all sizes. We guarantee that your individual needs will be fulfilled with the highest level of expertise.
Customization: We believe in creating custom good law firm websites tailored to meet your specific needs. These websites should reflect your brand's unique personality & values.
Quality: We are committed to delivering high-quality websites. We use the latest technologies and industry best practices to ensure your website is top-notch.
Communication: We make sure you stay informed throughout the process. We communicate with you clearly and openly, so you're always aware of your website's progress.
Key
Features

for Your Law Firm's Website
Discover the features we offer to take your law firm's online presence to the next level. From custom design to SEO optimization, our powerful features will help you stand out in the digital marketplace and attract new clients.
Mobile-Optimized Design
With more people accessing the internet on mobile devices, a mobile-friendly website is crucial. It ensures potential clients can navigate and interact with your great law firm website easily.
Online Appointment Scheduling
Lawyers are busy and need more time. Offer online appointment scheduling for clients to book appointments at their convenience without back-and-forth communication.
Practice Area Pages
Creating dedicated pages for each practice area, such as personal injury law firm, can benefit potential clients. It allows them to easily locate the information they require.
Case Results & Testimonials
Including case results and client reviews on your website establishes credibility and demonstrates your firm's success. This builds trust and attracts new clients.
Blog & Resources
Providing valuable resources such as blog posts and ebooks establishes your firm as a thought leader. It attracts potential clients and positions your firm as a knowledgeable resource.
Content management system
Our user-friendly WordPress CMS empowers you to update and maintain your lawyer website. Change content, images, and design elements anytime for complete control over your online presence.
Find a
Service


that works for you
We specialize in tailored branding, attorney website design, and SEO services. Our services are customized to meet the needs of lawyers, attorneys, and law firms of all sizes.

We will work together to create a plan that makes you stand out in a competitive market. This will help you attract more clients to your law practice.
Designs that Exceed Expectations
Website Design & Development
Reach Your Target Audience
Search Engine Optimization
Unleash Your Unique Identity
Our Hassle-Free Website Creation
Process
Transform your law firm's online presence with our website creation process. It's hassle-free and tailored to your unique needs. Achieve your online goals with ease.
Initial Consultation
We'll schedule an initial consultation to understand your law firm's website needs, target audience, branding, and budget.
Proposal
We'll create a detailed proposal outlining our web design and development services and pricing, refining it to meet your needs & budget.
Design & Development
We'll create a high-end web design that reflects your brand's personality and values and meets your needs and goals.
Revisions & Testing
We'll send the completed website to you for review and revisions, ensuring it's optimized for top performance and functionality.
Launch
We'll help you launch the website online, fully optimized for search engines and set up analytics tools to track performance.
Ongoing Support
We provide ongoing support, ensuring your website runs smoothly and answering any questions you might have.
Hear what our
Happy clients say

about us
Lawzen did an exceptional job and had great communication through the entire process. I made several changes as I was deciding what I was looking for through the website and the they were happy to work with me on every one of them. If you are considering going with a trusted web designer for your law firm, go with them, you'll be in good hands.
Clark Martin
have an idea?
let's build it and scale it!
Boost your firm's online presence with our best law firm web design and SEO services. Our services are tailored specifically to fit your unique marketing strategy.

Reach prospective clients and establish your brand as a trusted authority in the legal industry. Let us help you grow your business and take your law firm to the next level
Send us a message, and we'll work together to create a custom website that perfectly matches your needs